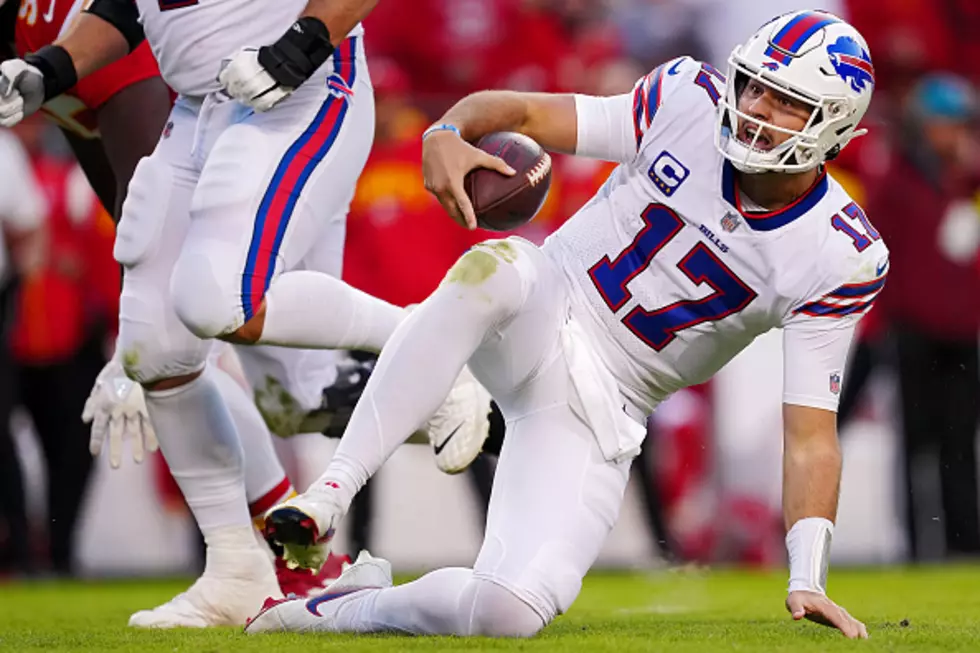 Josh Allen Could've Been Hurt on This Blatant No-Call Penalty
Getty Images
Two out of the last three wins by the Buffalo Bills have been by one score, after the Bills 24-20 victory over their non-division rival, the Kansas City Chiefs on Sunday.
The Bills had moments where it felt like it just wasn't going to be their day.
The missed tackles on Chiefs wide receiver JuJu Smith-Schuster, the Chiefs third down conversions and of course, the blatant no-call penalties that would've helped the Bills.
The officiating was questionable on both sides for the entire game, but one no-call has Bills fans steaming. It happened on the offensive drive before the game-winning drive by the Bills.
It was a third down for the Bills midway through the fourth quarter, when Bills quarterback Josh Allen tried to escape the pocket to his right.
That's when Allen was quite clearly tripped by Chiefs defensive lineman, Chris Jones. The penalty was somehow missed by the officials, event though it happened directly in front of them.
Former NFL referee and current CBS rules analyst Gene Steratore said this should have been called. It would have resulted in a 10-yard penalty and an automatic first down for Buffalo.
This play is extremely dangerous and is written in the rules to make sure players stay protected. Tripping opposing players can result in injury because the player who is tripped does not see it coming (usually) and it involves the lower extremities (knee, ankle, leg).
Allen was extremely upset, as well he should have been.
Luckily, this did not cost the Bills the game. They forced a three and out on the Chiefs next drive and won the game on the proceeding possession.
But if the Bills had lost, this play would be the number one storyline on Monday.
Best Pictures of Josh Allen Proving He's A Superstar
Josh Allen is certainly living up to the hype after a show-stopping performance in Los Angeles.
Buffalonians Would Hate To See Josh Allen Endorse These Companies
The Top 30 Beef on Weck Restaurants In WNY
The 30 best places for beef on weck in Western New York.