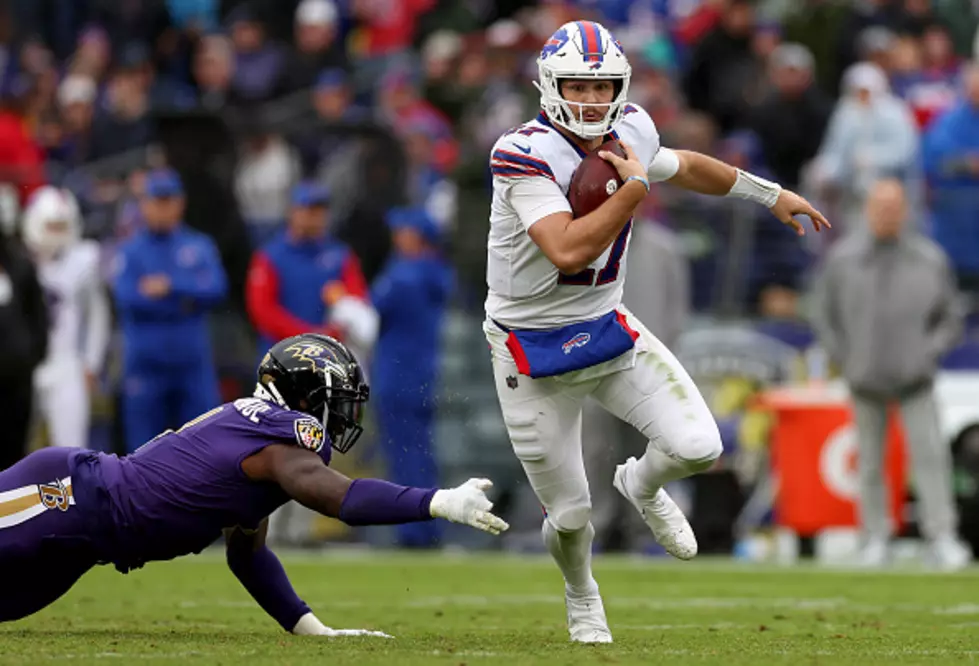 Cowherd's Josh Allen Comeback Comments Are Wrong; Bills Fans Mad
Getty Images
When it comes to sports talk, it can can pretty heated. If you decide to post your thoughts on your favorite team on social media, especially platforms such as Twitter, Instagram or TikTok, you should be prepared to face replies rival fans.
It's been that way for a long time and it gets even more back-and-forth if a national talk show hosts says stuff that makes a team's fanbase upset.
Colin Cowherd's comments on Tuesday's show about Josh Allen and Patrick Mahomes got Bills fans a little worked up. to say the least.
Cowherd was talking about the Kansas City Chiefs and their offense led by Patrick Mahomes on his radio and television simulant show "The Herd" on Tuesday.
Towards the end of the take Cowherd said that, ""Josh Allen hasn't proven he can win these close come from behind games like Patrick Mahomes."
The show's account tweeted out the quote and video as well.
The quote in question says that "Josh Allen hasn't proven he can win close games like Patrick Mahomes."
So let's look at the numbers for fourth quarter comebacks in the regular season from both Allen and Mahomes, shall we.
Mahomes has nine career 4th quarter comebacks in his NFL career, which started in 2017 but he wasn't the full time starter until the start of the 2018 season (68 career regular season games played).
Allen has eight career 4th quarter comebacks in his NFL career, which started as the full time starter by week 2 of his rookie 2018 campaign (66 career regular season games).
Mahomes does have two 4th quarterback playoff comebacks in his career, one against the 49ers and the other against the Bills, which was the AFC Divisional game in January...which Allen had taken the lead back TWICE. That loss was 100 percent on the collapse of the Bills defense, not because Allen lost that game.
Let's go deeper here.
Allen did have a playoff comeback against the Indianapolis Colts in January of 2021, in what was the Bills Wild Card home game that playoff run.
The Colts led 10-7 and Allen single-handedly led them to a win that day against a top five defense from the 2020 regular season. As good as the Bills were that season, the Colts were the better team that day and Allen carried the offense.
We haven't even mentioned the fact Allen had a 17-point comeback on the road in Baltimore against the Ravens, down multiple offensive starters, in heavy rain...just nine days ago.
Could you argue that Mahomes is "more" clutch than Allen? Sure, you can. But are the numbers skewed in a way that makes that clear? Not even close.
Allen HAS proven he can win close, comeback games like Mahomes and the numbers prove it.
11 Pictures of Why We Love Josh Allen
Best Pictures of Josh Allen Proving He's A Superstar
Josh Allen is certainly living up to the hype after a show-stopping performance in Los Angeles.
The 25 Perfect Fall Restaurants in Western New York
The best restaurants during the fall in Buffalo and Western New York.