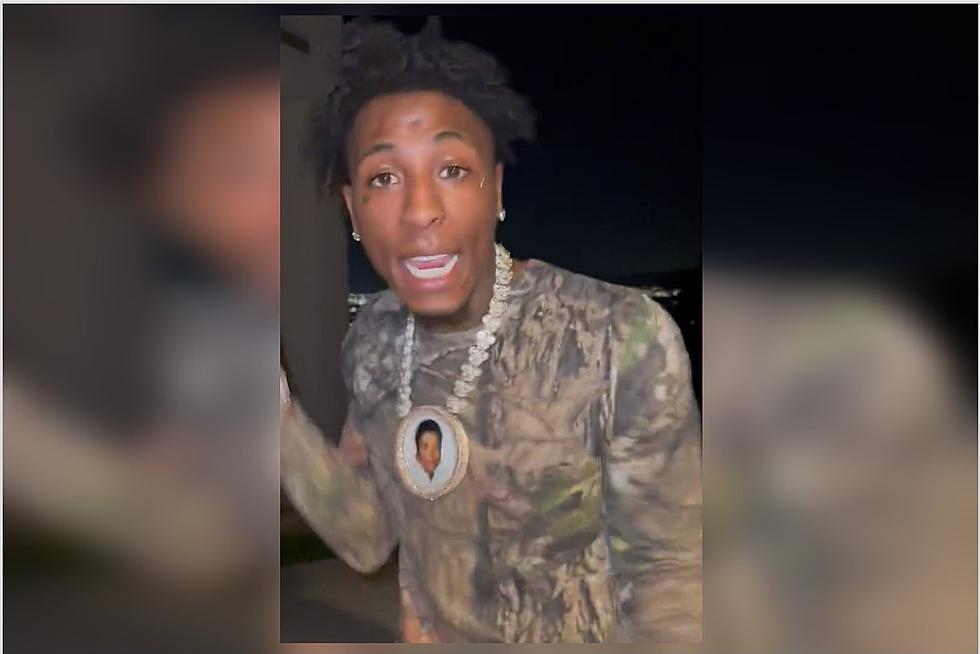 YoungBoy Never Broke Again Celebrates After Lil Durk Pushes His Album Back – Watch
YBUpdate/Twitter
YoungBoy Never Broke Again is celebrating the fact that Lil Durk pushed back his new album.
Feuding rappers NBA YoungBoy and Durkio were set to battle it out after recently announcing they'd be dropping projects on Friday (May 12). However, Durk pulled a switcheroo and pushed back the release date for his Almost Healed album and dropped his new single with J. Cole, "All My Life," instead. Top celebrated the move in a video he shared on social media.
"B***h-a** n***a, you pushed back, you bet not ever try it again," YB snaps while bouncing to a record off his new project, flashing cash and showing off his watches. "Play with me," he added.
YoungBoy Never Broke Again dropped his second project in less than a month, Richest Opp, on Friday. The 17-song effort features the track "F**k the Industry Pt. 2," which finds Top calling out Drake for his affiliation with Lil Durk.
"B***h, I send them hitters to hit at you, boy, don't say s**t to me/Talk to Drake, cross FaceTime, he wasn't feelin' me," NBA YoungBoy raps. "Told me that he f**k with Durk, damn, that s**t was gettin' to me/Told me that he like the s**t I'm doin', but can't do s**t with me/So when we cross our ways, f**k what you say, b***h, you my enemy."
YB also disses Lil Yachty.
Lil Durk's new album is now set to drop on May 26. He announced the change shortly after midnight along with the updated album cover.
See YoungBoy Never Broke Again's Reaction to Lil Durk Pushing Back His Album Below
See Wild Rap Beefs That'll Probably Never Be Resolved
Pusha-T and Drake, YG and 6ix9ine, and more.