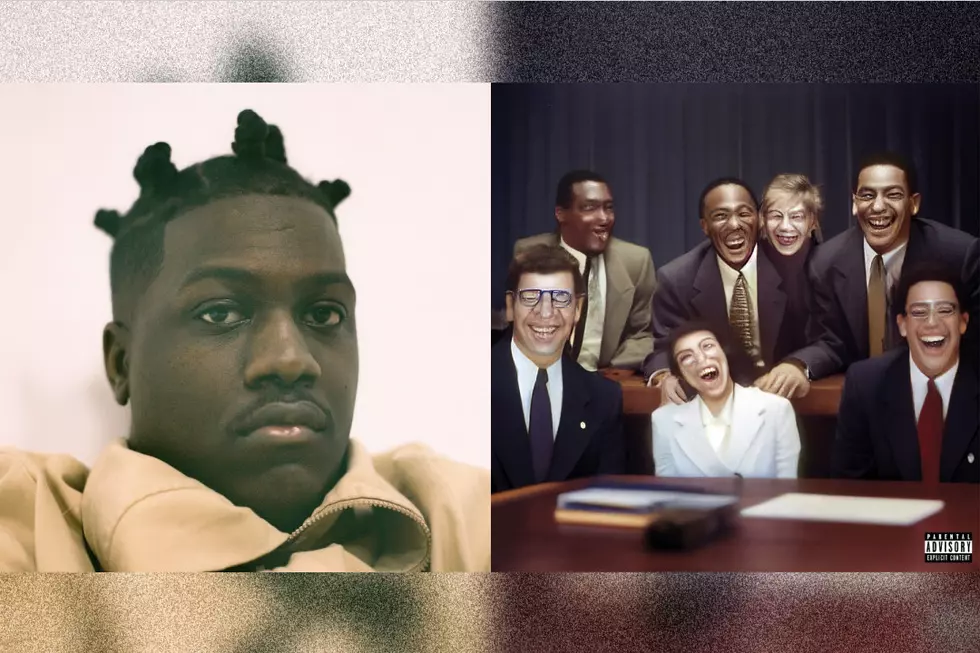 Why Lil Yachty Made an Alternative Rock Album
Gunner Stahl/Quality Control Music/Motown
Lil Yachty is among a bevy of artists who have tried their hand at making a rock album. Jay-Z, Machine Gun Kelly, and Lil Wayne are just a few rhymers who went from rap to rock in their music careers.
On Friday (Jan. 27), Lil Yachty released Let's Start Here., his first alternative rock album. The 14-song collection features Yachty rapping over psychedelic rock productions that included blaring guitars and out-of-this-world sounds.
Lil Yachty's attempt at alternative rock shouldn't be a total surprise. In October of 2021, Tame Impala shared Yachty's remix of their song "Breathe Deeper." He also appeared in the group's neon-flashing music video for the song. Apparently, while working on the Tame Impala remix, Yachty was inspired to make his alternative rock album.
But Yachty always had an appreciation for rock music. In a August 2016 interview with Nardwuar, he was presented with a gift: a vinyl copy of Coldplay's 2014 album Ghost Stories, much to his delight. "I can sing every song on this bitch from head to toe. This is my favorite album from them," he said.
When Nardwuar asked Lil Boat in 2016 if he would like to work with the U.K. band, he said "so bad" before singing portions of Coldplay's song "Always in My Head."
Lil Yachty also hinted that he was recording a rock alternative album in January of 2022. While purchasing some expensive bling at the Ice Box jewelry store in Atlanta, the rapper-producer talked about his experimental project.
"My new album...it's a non-rap album, it's alternative. It's sick," he said. "I've always wanted to [do an alternative album] but now I have met all these amazing musicians and producers."
"It's like a psychedelic alternative project that's cool, it's different," he continued. "It's different. It's all live instrumentation."
"I've changed my dynamic, you know what I'm sayin'?" he added. "Like, I'm telling you, this album...I'm creating music a whole lot differently."
Leading up to the release of the Let's Start Here. album was a little difficult. The project, initially titled Sonic Ranch, leaked online in December of 2022. One track, "The Black Seminole," features live guitars, spacey keyboards and Yachty rapping in an echoic voice. "Sex symbol, the Black Seminole/A sex symbol, the Black Seminole/African Rambo with more ammo/Can't be escaped, I'm on every channel," he delivers.
So Why Did Lil Yachty Make an Alternative Rock Album?
Much like Jay-Z and Lil Wayne, it's all about creative freedom. In an October 2009 interview with Billboard, Weezy described his rock project, Rebirth, as his "freedom album."
"When I said I was doing a rock album, it was about doing a freedom thing. This album isn't hip-hop," the Young Money leader explained to the publication. "When I do my Carter albums, I know I've got to rap, I know I've got to spit...I also know the things I shouldn't say, the things I shouldn't talk about. There's none of those limits on this album [Rebirth]. I say what I want, how I want. That's what this album is: a freedom album."
Lil Yachty loves to express himself and doesn't limit his artistry when it comes to creativity. Earlier this month, the "Poland" rapper announced that he wanted to form an all-female backing band. Yachty held several tryouts in different cities, including Atlanta.
On Jan. 12, Yachty wrote in a since-deleted tweet on Twitter: "Putting together a band of women, please pull up to tryouts Thursday."
The 25-year-old rhymer also shared four pictures of text of his requirements for the group. Apparently, Yachty is looking for two to three background singers, a drummer, a keyboard player, a guitar player and a bass player for his all-women band. The location of the auditions was in Lithonia, Ga.
There's no word if Lil Yachty has assembled his all-women band yet, but it will be interesting to see what he has developed with his backing musicians.
As for his experimental rock album, Let's Start Here., fans are already praising Lil Yachty's new direction.
Listen to Lil Yachty's Let's Start Here. Album Below
See 20 Signs You're a Lil Yachty Fan
Yachty hive, where you at?