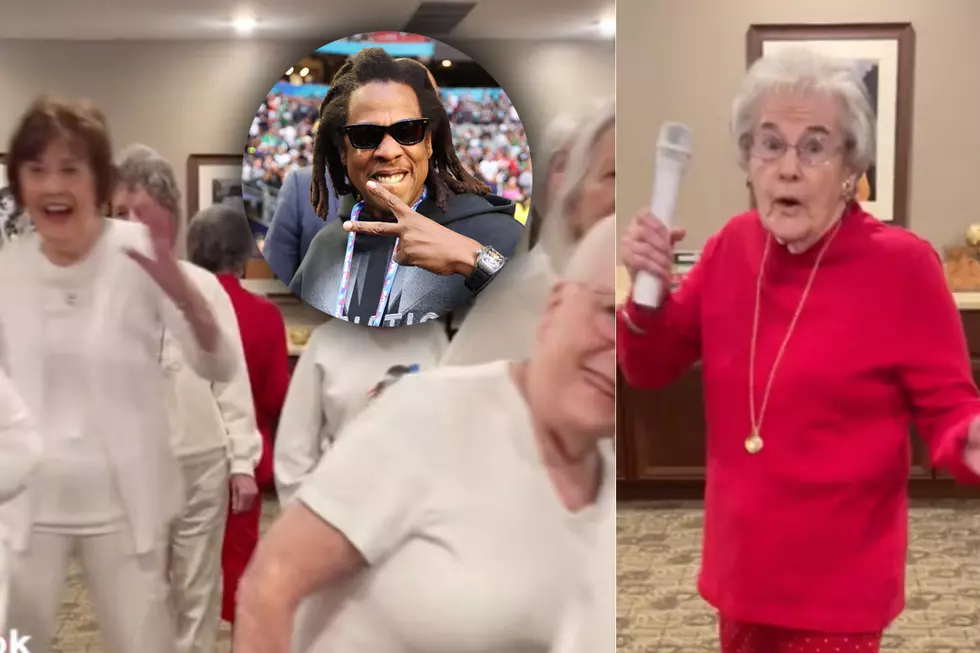 Jay-Z Sends 100 Roses to Senior Citizens After They Go Viral for Recreating Rihanna's Super Bowl Halftime Performance – Report
arcadiasrlivingbg/TikTok/Christian Petersen/Getty Images
Jay-Z reportedly sent 100 roses to a group of senior citizens after they went viral for recreating Rihanna's Super Bowl halftime performance on TikTok.
According to a report published by WNKY News 40 on March 2, Jay-Z gave a set of senior ladies in Kentucky their flowers in more ways than one. When Hov caught wind of a viral TikTok video some residents of Louisville, Ky.'s Arcadia Senior Living Community put together featuring their take on Rhianna's epic performance at Super Bowl LVII last month, he had 100 red roses delivered to them on behalf of himself and Roc Nation.
"We love the TikTok here at Roc Nation - Jay-Z," reads the thoughtful card accompanying the lavish bouquet.
In response, the lovely ladies-turned-TikTok sensations offered up some sweet words of gratitude to the A-list hip-hop icon from Brooklyn.
"There are 100 of them and they're from Jay-Z," said Arcadia Senior Living resident Sue Evans in an interview with WNKY News 40 regarding the floral arrangement. "My granddaughter was worried and she told her mother, 'I hope she understands who that is.'"
Dora Martin, the woman who played the role of Rihanna in the viral halftime performance recreation, chimed in with, "I thought that was wonderful, very nice of him [Jay-Z]."
Resident Ora Rampenthal, who also appears in the TikTok video, hopes to someday commemorate the generous gift from Jigga as soon as she can get her hands on a large enough scrapbook to contain all 100 of Jay-Z's roses.
"We thought about pressing them in a book but we haven't got a big enough book," Rampenthal told the local news outlet.
In the adorable and quite impressive video below, the ladies of Arcadia Senior Living show off the "performance" that earned them the bouquet of roses courtesy of Jay-Z and Roc Nation. Complete with actual audio captured during Rihanna's "Rude Boy" segment of the halftime set, 11 women, including Ora Rampenthal and Sue Evans, can be seen dressed in all-white suits as the choreographed lineup slowly unveils Dora Martin's portrayal of the "Pon De Replay" megastar. Donning a replica of Ri Ri's red ensemble and dancing to the music, Martin went so far as to find herself a white microphone to keep things authentic.
While the group of Arcadia residents each remain humble over receiving a gift of acknowledgment from one of the greatest rappers to ever bless a recording booth, they're no strangers to celebrity status themselves. To date, the Arcadia Senior Living TikTok account has raked in over 116,000 followers.
Aside from the viral video of the ladies recreating Rihanna's Super Bowl halftime performance, other popular videos from the Kentucky facility's residents feature Chris Brown's smash hit "Look at Me Now" featuring Lil Wayne and Busta Rhymes as well as Big Boss Vette's "Pretty Girls Walk."
See Jay-Z's Biggest Public Investments