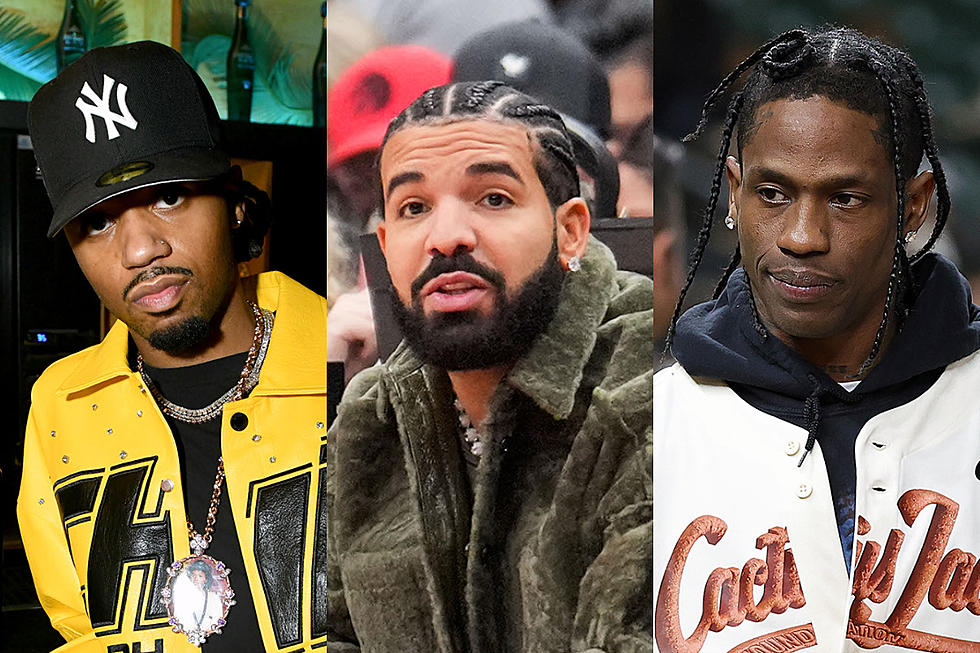 Unreleased Songs From Drake, Metro Boomin and Travis Scott Leak Online
Craig Barritt/Mark Blinch/Bob Levey/Getty Images (3)
Unreleased songs from Drake, Metro Boomin and Travis Scott have leaked online.
In the early hours of Wednesday (May 10), a bevy of never-heard-before tracks from some of the hottest artists in the rap game began to circulate across all corners of the internet. While it's tough to pinpoint the exact source of the leaks or whether or not they came from multiple places, it appears as though stockpiles of songs from the likes of Drake, Metro Boomin and Travis Scott were somehow raided causing a frenzy on social media.
Three leaked Drake songs, in particular, have the internet sleuths buzzing. One, seemingly titled "Startrax," is a collab between Drizzy and Lil Wayne over what certainly sounds like Pharrell's signature style of production. Another finds the Toronto MC going back and forth on wax with fellow OVO artist PartyNextDoor. However, the Drake leak that has garnered the most attention is actually a reference track the internet is calling "Heat," the final version of which is titled "Heated" and is included on Beyoncé's most recent album, Renaissance.
As for Metro Boomin, a track tentatively titled "Till Further Notice" featuring 21 Savage and James Blake is presumed by fans to have been left on the cutting room floor ahead of the revered producer's critically acclaimed Heroes & Villains album.
While Drizzy and Meto Boomin's leaks all appear to be somewhat recent in nature, the spilled songs from Travis Scott sound like they may have been recorded at various times throughout his storied career in rap. For example, a track being referred to as "Get Off Me" featuring DJ Drama and Kid Cudi could perhaps be part of Travis Scott's shelved joint album with Cudder, The Scotts, while social media hip-hop heads are assuming that "Naked" featuring Bon Iver could have been a leftover from Cactus Jack's 2013 mixtape, Owl Pharoah.
The latest leak seems to be the largest hip-hop has been faced with since December of last year when more than 200 unauthorized tracks from big-name stars such as Playboi Carti, Young Thug and Future spread around the web like wildfire.
Listen to Leaked Songs From Drake, Metro Boomin and Travis Scott Below
Drake - "Bricks" featuring PartyNextDoor
Drake - "Startrax" featuring Lil Wayne
Travis Scott - "Naked" featuring Bon Iver
Travis Scott and Kid Cudi - "Get Off Me" featuring DJ Drama 
Metro Boomin - "Till Further Notice" featuring 21 Savage and James Blake
See the Best-Selling Hip-Hop Songs Since 1991 Ranked