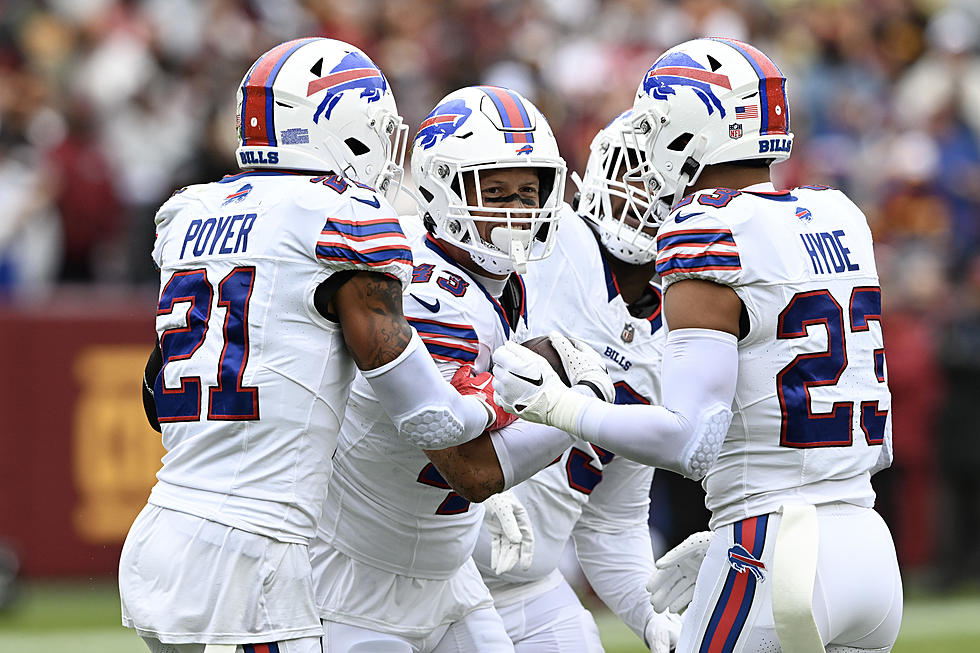 Scary Stat Right Now On The Buffalo Bills
Getty Images
This stat is an eye-opening and scary one about the Buffalo Bills.
The Bills have been dominant since their week 1 loss to the New York Jets. Defeating the Las Vegas Raiders in week 2 38-1, and dominating the Washington Commanders 37-3 in week 3 in which they had 9 sacks. Terrewwl Bernard led the way with 2 sacks, an interception, and a fumble recovery, the first Bills player to ever do that in a game and the last player to do it since the great Brian Urlacher did in 2007. Edge rusher Leonard Floyd, who the Bills just picked up this year, had 2 sacks as well and leads the team with 3.5 sacks already this season.
Despite the Bills not Blitzing often, they have the highest sack percentage. This shows their defensive line is really doing an excellent job getting to the QB, as well as the Bills secondary forcing QBs to hold onto the ball longer with good coverage. What's even more amazing is they are doing this WITHOUT all-pro edge rusher Von Miller. Miller tore his ACL last year and is recovering. He is expected to be back on the field before the season is over. The way the defense is playing, that's a terrifying thought for opposing teams.
Also of note, head coach Sean McDermott took over the defensive play calling this year after coach Leslie Frazier "took a year off." So far it looks like McDermott is doing a good job.
We'll see how the Bills defense fairs against the Miami Dolphins this week. They put up a shocking 70 points in a 70-20 win against Denver on Sunday. That's the second most points for an NFL team ever. Despite that, the Bills are favored to win the game by 1.5 points.
It's a big game this week, which is Sunday at 1 p.m. from Highmark Statidum in Orchard Park. Be sure to come to our We Are Buffalo Tailgate Party at Wings Meeting place!  For more info, CLICK HERE.
Also, check out these Bills themed Beers for your tailgate this weekend:
Buffalo Bills Themed Beers For Your Tailgate
These are brews you will want for your next Bills tailgate.