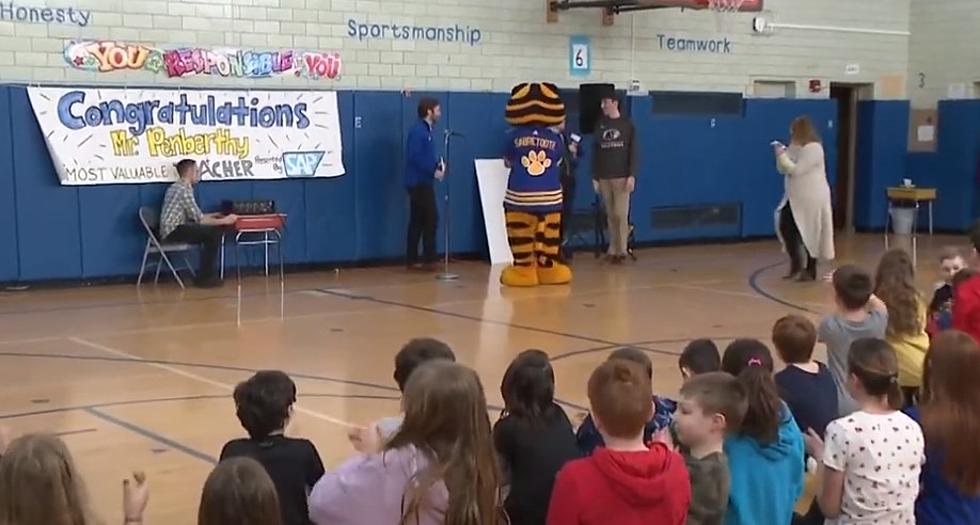 Western New York Teacher Wins NHL's Most Valuable Award
Photo Credit: YouTube
The voting for the NHL's Most Valuable Teacher award ended on February 28th and finally, all the votes were counted and we have a winner right here in Western New York.
Feel Good Mornings With Dave Fields Mon-Fri 6am-10am
Mr. Penberthy was visited by Sabretooth on Wednesday and recognized by the Buffalo Sabers at last night's game as the NHL's Most Valuable Teacher for February.
As part of the prize package, a $10,000 grant will be given to the Frontier Central School district to be used for STEM programs.
Also with the win, Mr. Penberty is now eligible to win the Most Valuable Teacher of the Year for the 2022-2023 NHL Season. There has never been a "Teacher of The Year" winner for this contest from Western New York. Last year's winner was from Las Vegas.
The winners in 2021 were from Pittsburgh, Philadelphia, and Edmonton and the winners in 2020 were from Boston, Pittsburgh, and Philadelphia.
Buffalo Sabres Goalie Masks
Take a look at some amazing Goalie Masks in Buffalo Sabres history.
New York Lottery Announces 7 "Big Money" Winners
According to the New York Lottery, there are seven New Yorkers who won $1 million dollars or more playing the lottery.
10 Baby Names You Don't Want To Use In New York
These are the most popular names in New York State given to babies