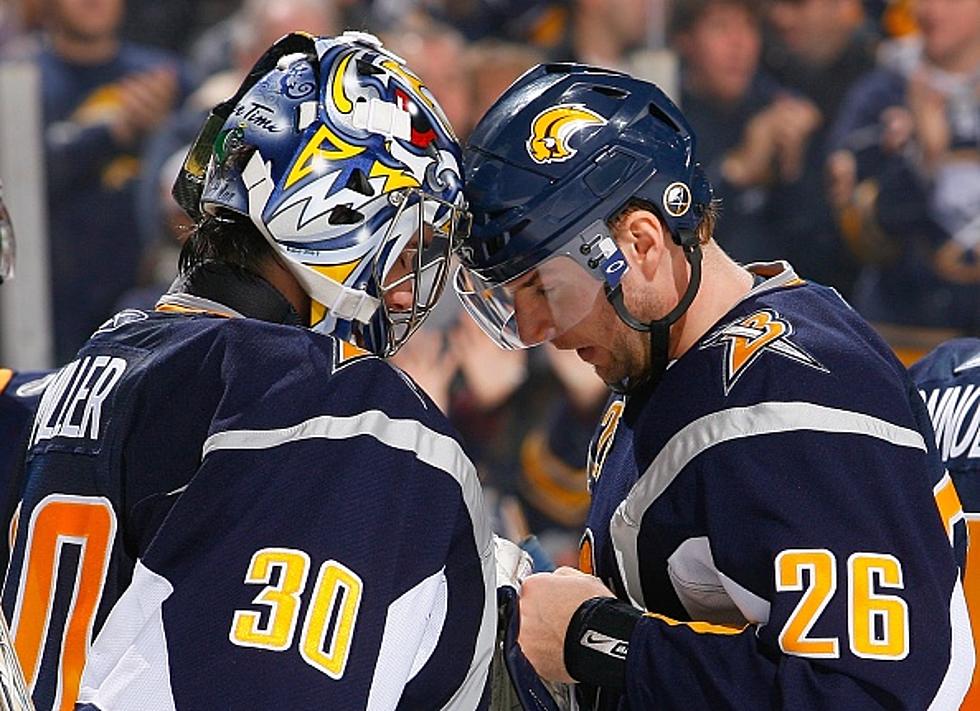 Ryan Miller and Thomas Vanek Have New Jobs and Back In the NHL
Getty Images
The hockey world has been mourning the loss of legendary Buffalo Sabres play-by-play man Rick Jeanneret, who passed away because of multiple organ failure on Thursday.
Many former Buffalo Sabres have released statements and have made social media posts, honoring, remembering and sending condolences for Jeanneret and his family.
One of those players is former Sabres goaltender, Ryan Miller.
Miller played with the Sabres from 2002-2014 and retired from the NHL in 2021. He was a mainstay in net for Buffalo from 2005-2014 and had his number 30 jersey retired in January of 2023.
On Friday, both Ryan Miller and former Sabres sniper Thomas Vanek officially had new positions with an NHL franchise.
Frank Seravalli reports that both Miller and Vanek have joined the San Jose Sharks; Miller as a goalie scout and goaltending development, and Vanek as a amateur scout in the Minnesota region.
Vanek is Austrian but played at the University of Minnesota and lived there before his time in Buffalo. Miller's wife is from California and it's where he finished his career, so both positions make sense for both Miller and Vanek.
Miller has made reference to the potential desire of being an NHL general manager one day. These two hires reunites Miller and Vanek with Mike Grier, who is now the Sharks GM. All three played with one another in Buffalo.
Danny Briere is the GM of the Philadelphia Flyers and Chris Drury is the GM of the New York Rangers; both played with their teams after their days as a Buffalo Sabre.
The Sabres GM is Kevyn Adams, who is a Buffalo native and played against the Sabres, during his days with the Carolina Hurricanes.
It's surreal to see all these 2000's NHL players, mostly Sabres players, all now with front office positions in the NHL. It doesn't seem that long ago but those 2005-2007 Sabres teams were 15-18 years ago.
Hopefully Miller is a GM one day and who knows, it might be here in Buffalo. For now, Adams has done a marvelous job as GM as the Sabres are poised to make the playoffs next season, for the first time in 13 years.
Buffalo Sabres Goalie Masks
Take a look at some amazing Goalie Masks in Buffalo Sabres history.
Top 10 Most Underrated Buffalo Sabres of All-Time
22 Famous Buffalo Sports Phrases Every Die-Hard Bills and Sabres Fan Knows
Being a sports fan in Buffalo is sometimes like knowing a different language. Here are 22 of our favorite Buffalo sports phrases you already know if you're a huge fan! And if you're new here, here's how to catch up.