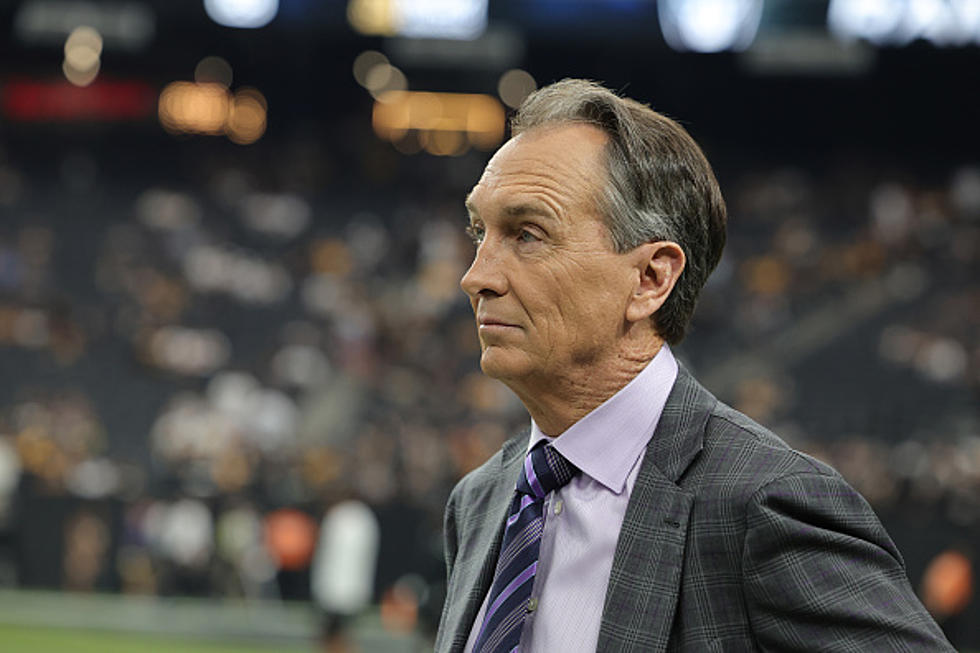 Bills Player Makes Fun of Cris Collinsworth on Social Media
Getty Images
The Buffalo Bills are arguably the best team in the AFC, although that's hard to argue against now that Buffalo is 3-1 after a dominating performance over the previously unbeaten Miami Dolphins, 48-20.
The Bills are firing on all cylinders right now and are leading the AFC East.
The Bills will travel to London this week, where they will technically be the home team for their game against the Jacksonville Jaguars at Hotspur Tottenham Stadium.
After thus London game on Sunday, the Bills will next play the New York Giants at Highmark Stadium on Sunday Night Football. For that game, Mike Tirico and Cris Collinsworth will be coming to Orchard Park to call the game.
Collinsworth has come under fire from Bills fans in recent years, with his intentional or unintentional favoritism towards the Kansas City Chiefs and Patrick Mahomes. It's become a talking point on social media since 2020, when the Bills and Chiefs started to play games against one another.
Bills players are aware of the Collinsworth conversations, as long-snapper Reid Ferguson posted this on X (formerly Twitter).
If you have ever watched those Chiefs and Bills games, the you have probably noticed how "biased" Collinsworth is.
It's funny that Bills players notice this, that it's not just the Bills fans who have been pulling their hair out about this notion.
The Bills are looking to stay atop the AFC East on Sunday, but it's their first trip to London since 2015 and the Bills have historically had troubles with the Jaguars, including that tough loss in Jacksonville in 2021.
Kickoff will be at 9:30 am.
16 Buffalo Bills With Some Of The Best And Worst Nicknames
Gallery Credit: Brett Alan
22 Famous Buffalo Sports Phrases Every Die-Hard Bills and Sabres Fan Knows
Being a sports fan in Buffalo is sometimes like knowing a different language. Here are 22 of our favorite Buffalo sports phrases you already know if you're a huge fan! And if you're new here, here's how to catch up.
Gallery Credit: Clay Moden
15 Things You Should Never Do at a Bills Home Game
Things that are a no-no to do at a Buffalo Bills home game.