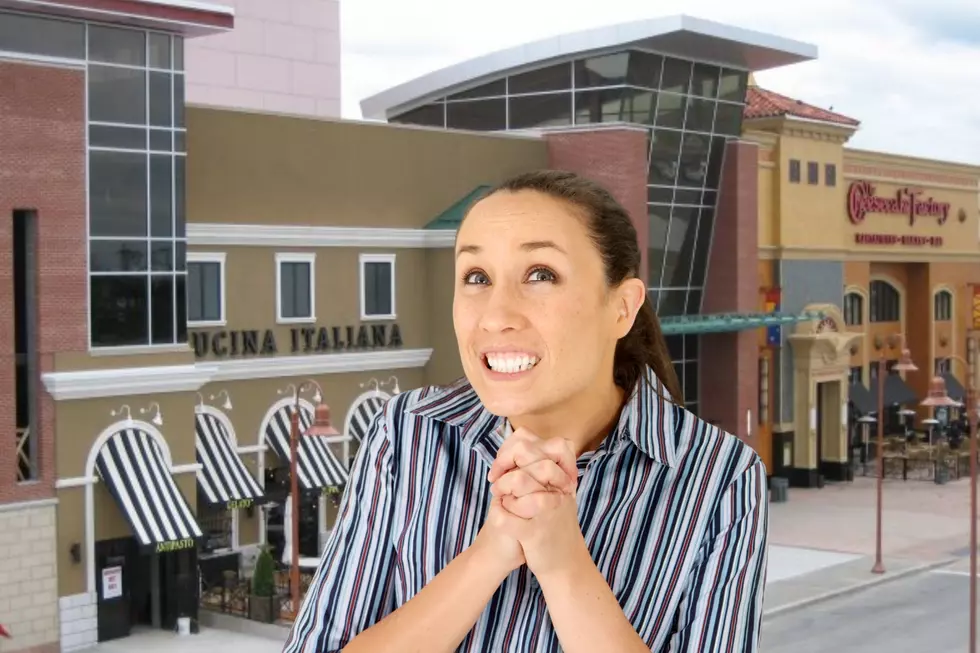 12 Stores We Desperately Want In The Walden Galleria
YouTube/Canva
Western New York shoppers know that Buffalo's Walden Galleria is truly special. One of the biggest malls in the country, "the Galleria" (as the locally born-and-raised call it) already has an array of stores to spend all of your money easily. With stand-by favorites like Macy's and Old Navy, along with high-end stores like Lululemon, Anthropologie, and  Apple - what more could you want as a Buffalo-area shopper?
It turns out - plenty.
Even though it's pretty easy to spend an entire weekend afternoon browsing and shopping at the Walden Galleria, there are a few places Buffalo residents wish they could give their hard-earned paychecks to that they've seen at other malls across New York State.
Sure, you could easily find these stores in other areas of Western New York. But considering the insane weekend traffic in the Buffalo area and the massive pain of getting from place to place - you could easily spend an entire afternoon just driving from one store to another.  It'd be nice to find all of our favorite spots to shop in one place - and even nicer if that place was the Walden Galleria.
Here are twelve stores that we'd love to see make their way inside Buffalo's Walden Galleria.
Ulta Beauty
Sure, the Galleria has a good chunk of the makeup and hair care market covered with a Sephora (an easy place for Buffalo beauty lovers to blow their paychecks). But even Sephora doesn't carry some of the tried and true staples that we're looking for. 
Honestly, it'd be nice to be able to stock up at both stores during one trip to the mall.
L.L. Bean
This outdoor lovers' paradise is missing from the Galleria. 
L.L. Bean was the place to go when we were kids for our back-to-school backpacks and winter coats. Now, it's a favorite among Buffalo hikers, bikers, and kayakers. (To be fair, we've never met someone who actually bought a kayak at L.L. Bean - but it's nice to know you have the option.)
And, even though L.L. Bean has tightened up on their return policy as of late, you still have up to a year to return anything for a full refund - even if you've already worn it a million times. Amazing!
Von Maur
When you walk into this elegant department store, you can't help but feel classy. 
At Von Maur, shoppers can browse accessories, clothes, and footwear from high-end designers like Marc Jacobs and Free People, all while listening to a man in a tux playing classical piano.
Considering the Walden Galleria is one of the "fancier" malls in Western New York, we're surprised it doesn't have this boujee staple.
CTS (formerly known as Christmas Tree Shop)
"Don't you just… love a bargain?" Man, that jingle really does get stuck in your head. 
Christmas Tree Shop (sorry - we can never bring ourselves to call it CTS) is the best place to save serious cash on home decor, kitchen supplies, and outdoor necessities. Really, everything you'd ever need is at this store and at extremely low prices.
Unfortunately, Christmas Tree Shops aren't really common in shopping malls (one of their few mall locations is in the Albany area), but come on! Let's change that!
The Icing
The "big sister" store of the younger demo Claire's Boutique, The Icing is a great place for Buffalo shoppers to buy cheap, stylish earrings and necklaces as an adult -  without feeling like you walked into your niece's JoJo Siwa-themed birthday party. 
McKinley Mall has one, but Walden Galleria shoppers are missing out.
Nordstrom Rack
Considered an "outlet" to Nordstrom, Nordstrom Rack is the place to save on designer clothes at a deep discount. 
You can always shop Nordstrom Rack online, but part of the fun of browsing here is that you never know what you're going to find. Plus, some of us like to "try before we buy" to make sure our new clothes are going to fit exactly the way we want them to.
The Boulevard has a Nordstrom Rack - why can't the Walden Galleria?
Abercrombie & Fitch
To be honest, most of us haven't stepped foot inside an Abercrombie & Fitch since we graduated high school. 
It could be because the chain has been closing locations across the country in recent years due to their past advertising (that featured buff guys and skinny female models) now being viewed as problematic.
It could also be because many of us can't pull off crop tops and low-rise jeans anymore. Even still, we miss smelling that strong Abercrombie cologne all throughout the Galleria's halls.
The Body Shop
A slightly more expensive, more natural spin on Bath & Body Works, The Body Shop is the place to go for cruelty-free skincare, body washes, and hair products. 
The Body Shop is becoming a cool place to shop again, thanks to a resurgence on Tik Tok. We also love it because you can browse there without running into dozens of Karens fighting during a candle sale.
Why doesn't Walden Galleria have one?
Ethan Allen
Do you have an unlimited budget and want your home to look like it came straight off of a Pinterest board? No? It's still fun to browse at Ethan Allen. 
Ethan Allen is the ultimate place to shop for high-quality, well-designed furniture. Even if you don't have the cash to spend here, it's a fun place to look around for ideas.
We're surprised that a top-level mall like the Walden Galleria doesn't have this store.
Athleta
It's weird that the Walden Galleria doesn't have an Athleta - right?
The Galleria boasts a Gap, a Gap Kids, a baby Gap, and an Old Navy, all of which are owned by the same parent company. Wound't the Walden Galleria want to have the entire family inside their mall, especially the store with the cutest workout gear to make you the best dressed in your yoga class?
Wait a minute…we realized something else is missing, too!
Banana Republic
Another member of the Gap Inc. family is MIA at the Galleria. 
Are the khakis and cashmere sweaters at Banana Republic expensive? Absolutely. But Banana Republic is one of those stores you can visit if you're clueless about what to wear to the office. No matter what you buy there, it will look like you're pulled together during your 9 to 5.
Can we at least get a Banana Republic Factory Outlet at the Galleria? Pretty please?
Orange Julius
Honestly, the closing of Orange Julius in the Walden Galleria hurts us to our core. 
A mall without an Orange Julius is an absolute travesty. Frankly, it shouldn't even be considered a mall if it doesn't have the option to sip on a sugary, brain-freeze-inducing Julius while you shop.
Ok, that might be a little extreme - but our stance remains firm. To the powers-that-be at the Walden Galleria - bring back Orange Julius!
The Most Gigantic Malls In New York State
Here are the biggest shopping malls in New York State where you can shop 'til you drop.
10 Buffalo-Themed Gifts Your Valentine Will Love
Show some Buffalove this Valentine's Day with one of these Buffalo gifts you can get locally at small businesses throughout Western New York
How Empty Is The McKinley Mall?
We were at the mall on a Saturday afternoon...just a few years ago it would've been packed at this time of day. Instead...this is what we saw.