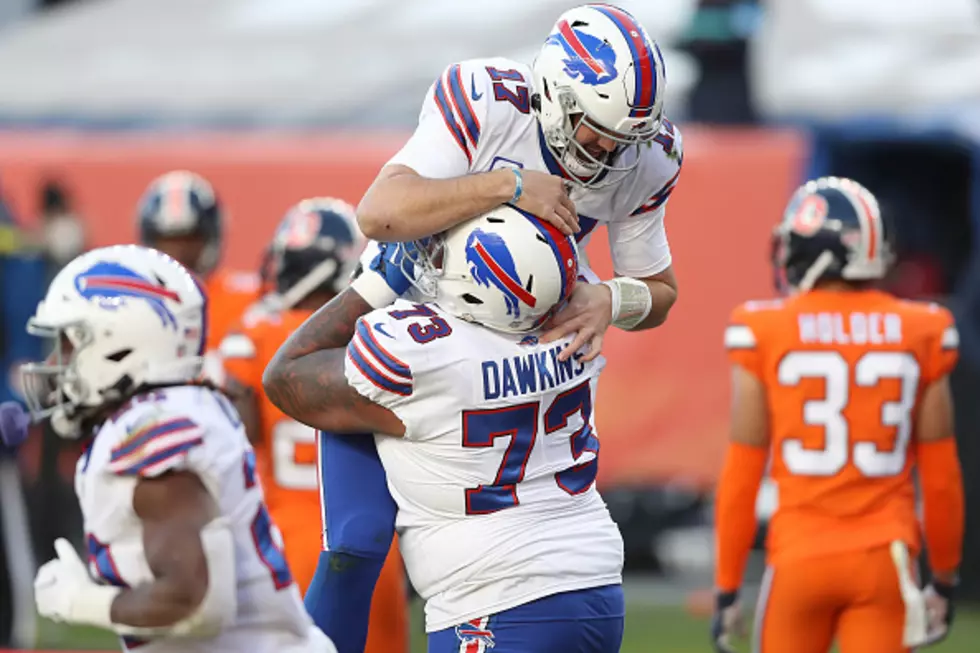 Bills Player Says Buffalo Is His First Home [VIDEO]
Getty Images
It's been four days since the events of this past Saturday in the City of Buffalo on Jefferson Avenue.
10 people lost their lives and three more were injured in a shooting at the Tops on Jefferson Ave. The attack was racially motivated, as police and investigators quickly discovered.
Since then, Buffalo's east side community has been going through mourning, as Western New York and areas outside the region make donations and try and help in any way they can.
The Buffalo Bills, along with Buffalo Sabres and Buffalo Bandits players, volunteered their time to serve food to the east side community on Wednesday.
Many of the players said the same thing -- donating money was not enough, they felt it was important to be there in person and be with the Buffalo community who was impacted by the tragedy.
Bills starting left tackle Dion Dawkins was there as well.
Dawkins was born and raised in New Jersey, but as he told WKBW's Matt Bove, Buffalo has become his first home. It's where he bought his first home and is raising a family.
Dawkins says that Saturday's event has impacted everyone in Buffalo -- Orchard Park, Hamburg, Buffalo's east side and west side. Dawkins added it impacted everyone at different levels, but with a tragedy this magnitude in Buffalo, it impacts everyone.
The soundbites from Dawkins, Josh Allen, Dawson Knox, Kyle Okposo and others were nothing short of amazing to hear. Having all those players, coaches and staff there in person meant the world to the community.
Predicting How Many Wins For The Buffalo Bills
The Buffalo Bills schedule has been officially released and how is the perfect time to predict how well the team will do this upcoming season.
Bills Mafia's Wishlist For The New Buffalo Stadium
The Bills are building a new stadium and here is a wishlist from Bills Mafia.
LOOK: What major laws were passed the year you were born?
Data for this list was acquired from trusted online sources and news outlets. Read on to discover what major law was passed the year you were born and learn its name, the vote count (where relevant), and its impact and significance.