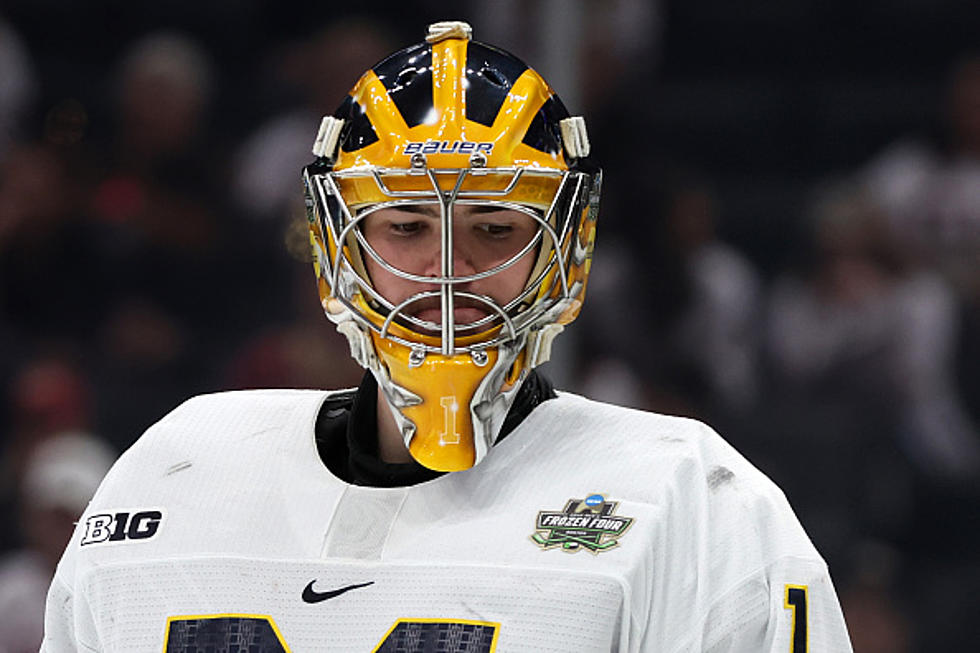 Buffalo Sabres Fans Are Worried About This
Getty Images
The Buffalo Sabres have been playing much better in the past few weeks, and really since the New Year, the team is playing with more urgency and commitment to a team game. It's showed in results, minus say for two or three games, including last night against the Tampa Bay Lightning (a 5-0 defeat).
The future looks bright for the Sabres.
They have young players already contributing on the team in Buffalo, such as Dylan Cozens, Peyton Krebs, Rasmus Dahlin, Casey Fitzgerald and Mattias Samuelsson.
They also have players in Rochester who look to be stars in the NHL soon (JJ Peterka and Jack Quinn).
They just signed first-overall pick Owen Power to an entry-level contract on Friday as well.
However, the goaltending situation has many Sabres fans worried. It's not because of who is in the pipeline for Buffalo in net, but the worry they will never even get here.
Northeastern University goaltender Devon Levi won the best goaltender in college hockey award this season, and to say he was the MVP of his team would be an understatement.
Levi compiled a 21-10-1 record with a 1.52 goals against average and a .952 save percentage. His stats were bonkers and took college hockey by storm. Levi was acquired by Buffalo from the Florida Panthers as part of the Sam Reinhart trade last summer at the NHL Draft.
Levi recently decided to go back to Northeastern for another season. The 20-year-old's rights are still owned by the Sabres until 2024.
University of Michigan goaltender Erik Portillo also had a great 2021-2022 season. He was the Sabres third round pick in 2019 and was the starter for a Michigan team that went all the way to the Frozen Four.
Portillo this past weekend decided to also go back to school for another season. His rights are owned by the Sabres until the summer of 2023.
The thought here was at least one of them would sign and be the main starter in Rochester. The fact both opted to go back to school has fans worried. Portillo could walk and become a free agent next summer, while Levi still has two years to go before they reach that point.
Portillo could have had a head start on Levi in Rochester, but both want to keep honing their skills in college and for a National Title. The problem is the Sabres desperately need one of them in the system as soon as possible.
Craig Anderson will be 41 years old next season and could retire. Dustin Tokarski is not an NHL goaltender and that leaves Ukko-Pekka Luukkonen, who has missed much of the season due to injury.
There have been so many horror stories of college hockey players walking, like Cal Petersen, so did that to the Sabres a few years ago and signed with the Los Angeles Kings after coming out of Notre Dame.
If I had to bet right now, I would say one of them gets to Rochester next season. Maybe both recognize they would have to battle to be the guy in the organization and that's the problem. Levi would get my vote, as he has the biggest upside and has proven at every level how special he is despite only being a 7th round draft pick.
Buffalo Sabres Goalie Masks
Buffalo Sabres Captains Since 2000
LOOK: Things from the year you were born that don't exist anymore
The iconic (and at times silly) toys, technologies, and electronics have been usurped since their grand entrance, either by advances in technology or breakthroughs in common sense.
See how many things on this list
trigger childhood memories—and which ones were here and gone so fast you missed them entirely.